Walking for Health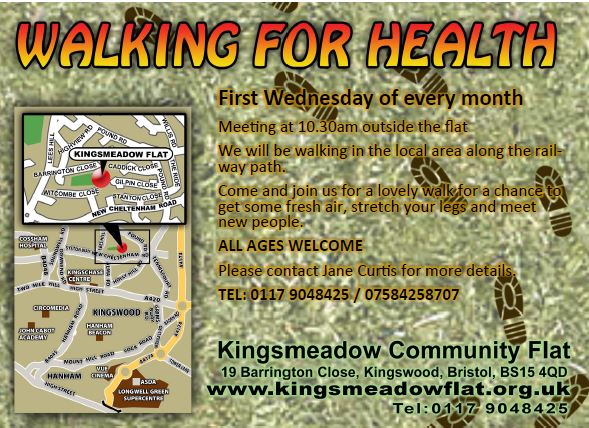 Meet outside Kingsmeadow@MadeForever at 10:30 am on the first Wednesday of every month.  We will be walking in the local area along the railway path.  Come and join us for a lovely walk for the chance to get some fresh air, stretch your legs and meet new people.  All ages welcome.
Please join us for weekly health walks of up to half an hour followed by a cup of tea and a chat.  Walkers with or without walking aids are welcome.
Staple Hill – every Tuesday at 10:00 am – Our Place Community Flat, 1a Berkeley House, Nelson Road, Staple Hill, BS16 5HS
Kingswood – every Monday at 11.15 am – Falcon Court, New Cheltenham Road, Kingswood, BS15 4FR
Yate – every Tuesday at 11 am – Cambrian Green Court, Wellington Road, Yate, BS37 5AD
Please call Carly for details and a friendly chat – 01454 868744.